by Earl Cook
In the USA today and in many parts of the world, the cost, availability and access to the healthcare system is being
closely examined and is the topic of many heated discussions. A simpler, safer, more affordable and accessible model for
wellness and healthcare is needed by many, where ever you live.
Touch for Health (TFH) is a viable solution to help people lead healthier and happier lives on a daily basis. TFH uses simple
muscle testing to assess the status of the subtle energies (Chi) in the energetic acupuncture meridians and then uses a variety of
touch and other mind-body techniques to restore the flow of these natural energies. The general purpose is to establish a level of
homeostasis and balance in the body which enables the natural self-healing capabilities of the body to function better while
reducing pain and the effects of stress. The body wants to be well. The body wants to be balanced.
We know that when we are faced with life-threatening or serious health emergencies, we should seek immediate
attention from professional healthcare providers. But, what do we do about all the other wellness and health
challenges that face us in our daily lives?
Dr. John Thie, founder and author of Touch for Health [1], stated that our highly trained and skilled doctors utilize their training,
skills, experience and resources approximately 10% of the time. This 10% represents the truly serious and life-threatening
situations that need this level of attention from these highly trained and skilled professionals.
But, that means approximately 90% of the time, the issues are the common aches, pains, doubts, fears, anxieties, stress and
discomforts that we, as humans, regularly face in our daily lives. Brain researcher and author, Rick Hanson, PhD, author of
Buddha's Brain: The Practical Neuroscience of Happiness, Love and Wisdom states, "Most suffering is not physical or emotional
agony but everyday stuff like stress, worrying, feeling left out and anxiety."[2]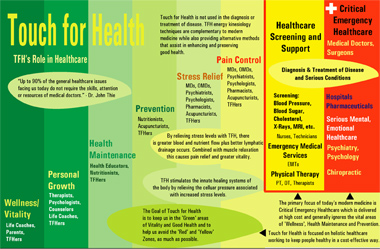 Touch for Health is a Complementary and Alternative Model
Most people cannot go to a professional every time they have one of the common aches and discomforts. The healthcare systems
and bank accounts cannot support or allow it. Why not try something that is immediately available, safe and affordable? If it
works, great! If it doesn't work, then move to the next higher level of care. Try the simple, safe and less-invasive options first.
Too many people are going to work sick or sending their kids to school in pain because they do not have other options.
In a 2007 study by the US National Institutes of Health, National Center for Complementary and Alternative Medicine (CAM),
stated that 38% of American adults over the age of 18 were already using some form of CAM. [3] The eTouch for Health software
is being used in homes, clinics, spas and schools in over 70 countries! [4]
Now, with the talks of budget cuts, austerity measures, reduced benefits, lower levels of care and increased exclusions from
healthcare coverage being considered as options for balancing budgets, the wellness and health of people are being ignored.
The need for a well-rounded, effective and accessible model is needed now more than ever.
In the following photograph, the Nomads on the Steppes of Mongolia, who are already some of the most self-reliant and independent
people in the world, are shown learning the Touch for Health techniques.
Nomads of Mongolia learning Touch for Health
The Nomads allowed Alfred Manuel of France and his partner, Catherine, to travel with them for two weeks while they learned
the Touch for Health techniques. As a result, the Nomads of Mongolia have become even more self-sufficient.
Interestingly, this event represents the full circle nature of the knowledge of 'energy kinesiology'. Much of TFH is based upon
the ancient Acupuncture Meridian techniques from China and are blended with relatively recent Western discoveries. The training
that Manuel and his partner were performing in the Steppes of Mongolia with the Nomads completed this circle of knowledge
as it has made its way around the world.
As new requirements for self-responsibility and self-care are being forced upon many, the Touch for Health techniques provide a
powerful option. For those seeking safe and available options, TFH is a readily accessible option.
Why is TFH an appropriate model? It is a safe, non-diagnostic, non-invasive, holistic approach that laypeople can use in their daily
lives. As a complementary model, TFH can be used while people are under the care of professional healthcare providers to assist
in the effectiveness of the treatment they are receiving. For example, balancing can help people with their nausea while undergoing
chemo-therapy. As a holistic approach, TFH has techniques that are beneficial in many areas of pain relief whether the source is
physical, mental or emotional stress or a combination of all of these. The holistic model realizes that these are all interconnected.
In TFH, our focus is on wellness and balancing the natural subtle energies of our body (Chi) while using the muscle test as a bio-feedback
tool. The goal of our energy balancing techniques is to help the body achieve a state of homeostasis and balance which enables
and assists the body's natural healing abilities to be activated and strengthened. Some areas in which these energy balancing
techniques can be used are listed below:
* Stress and Anxiety Relief
* Exercise and Movement
* Obesity and Diet
* Anxiety and Depression
* Goal-Setting
* Touch for Health as an Accessible Model for Wellness